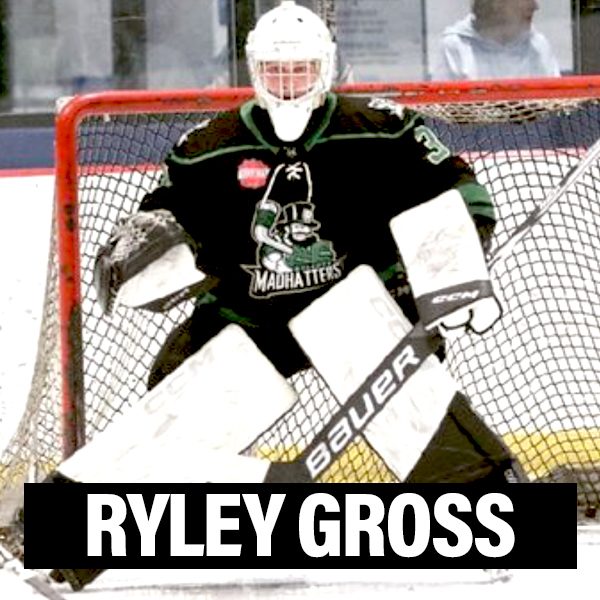 Player Profile
Character Article
Accolades
Media/Other Links
Player Profile
Date of Birth


July 1, 2002
---
Hometown


Hazenmore, SK, CAN
---
Current Team


Concordia University Wisconsin (ACHA D2)
---
Position


Goalie
---
Height


5'11"
---
Weight


209 lbs
---
Glove Hand


Right
---
GPA


3.67
NCAA Number




2205420669
Character Article
What are some of your main goals within the game over the next 5 years? 
My main goal in hockey is to simply play as long as I can at the highest level that I can. It may seem vague, but I can promise you in my mind it is not. It helps keep me understanding that I could be at the top of that list right now, but also keeps me striving to continue to push myself to reach the next level. Within the next 5 years, I would like to see myself committing to a college, battling every day to help that team succeed, as well as earning my degree in either Athletic Therapy (or something related to sports medicine), or an agriculture-related degree. By the end of my 5 years I'd like to see myself graduating with my degree, and hockey permitting, signing a pro contract either here in North America or overseas.
Why are these your goals? Why are they important to you? What would it mean to achieve them? 
My goals for the next 5 years may seem ambitious, but due to my value of hard work and my passion for what I do these goals are attainable for me.
What separates you as a player and person? What are some areas requiring work? How do you continue to get better? 
 My consistent hard work would likely be my biggest asset because it has brought me a vast understanding of the game itself and what I am capable of personally. That value of hard work also tends to big my biggest flaw. I say this, because when something doesn't seem to be working, instead of finding a new better way to make something or execute a save, I try to bullhead my way through to make the old way work for me. Now, I have become more adaptable, simply because I have had a goalie coach every day to call out my bad habits instead of me trying to find things in myself that I need to work on.
What do you bring to any team you play for? What could a coach expect from you if they selected you for their roster? 
My biggest assets all stem out of my deeply valued hard-working mentality. That mentality helped me develop a good eye for the game, and my gift of a loud, projecting voice has made one of my best "on ice" features to be my communication skills. Beyond that, I have a powerful lower body which helps me to move laterally quickly. .
What impact are you looking to have in your sports career? (Community, team, success, etc) 
The impact I want to leave, or the legacy I want my career to make, is one of passion. I want to be remembered as someone who was willing to lay everything on the table, but was always there for his brothers if called upon for more than just on ice things. I also want to continue to grow the sport of hockey bigger and bigger, because the issue with hockey where I grew up is that there are fewer and fewer people playing. It takes 3-4 towns to come together to make a team back home, as when I was that age each of those towns had its own team.
What do you believe separates the best players in the world? What attributes/intangibles define them? 
I also think that the love for the game and the look at expansion is something away from the rink that separates the best players in the world from the rest. Yes, it has absolutely 0 effects on the game itself, but it creates a legacy that cannot be rivalled and develops love and appreciation for not only the sport but that specific player. One thing that I do see making a direct impact on the game from the top players in the world, is their willingness to sacrifice things in life to attain greatness. For example, Connor Bedard, who is a phenom in the U20 hockey world, didn't become who he is a player overnight. He would have chosen to sacrifice years of his life, summers and every day to develop his shot. The amount of videos circulating social media of drills he's doing is insane. What you're willing to sacrifice to achieve your goals is a complete game changer in terms of how much you are capable of, and what you find joy in while doing it.
Favorite thing about the game (on or off ice)? 
What do I enjoy about playing hockey? I would have to say most of my favourite memories, in my life to this point, have been somewhat involved with hockey, or been had because of hockey. I would have to say my favourite thing about hockey is honestly the time spent with the guys in the locker room. Hearing the chirps and the joking, but also see the encouragement that gets thrown around. When someone has a rough day, people will build him up; or when someone has a great day people, he's encouraged to continue that momentum and continue to grind. When people want what is best for one another it can lead to some amazing things, and the "fun" aspect of any sport … winning. With that being said, no, winning isn't my favourite thing about playing any sport but is something everyone strives to do.
Accolades
Media/Other Links