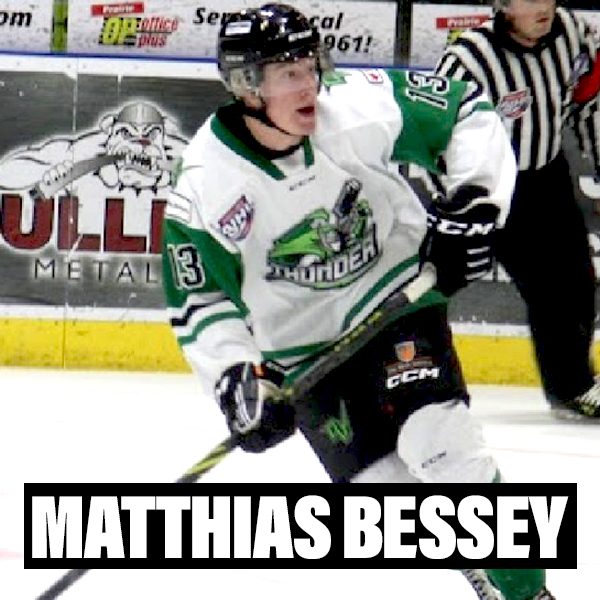 Player Profile
Character Article
Accolades
Media/Other Links
Player Profile
Date of Birth


September 18, 2004
---
Hometown


Carstairs, AB, CAN
---
Current Team


Drayton Valley Thunder (AJHL)
---
Position


Forward
---
Height


6'1"
---
Weight


190 lbs
---
Shoots


Right
---
GPA


4.0
Character Article
What are some of your main goals within the game over the next 5 years? 

My ultimate goal is to develop strength and the ability to apply it tangibly in game situations. Beyond that, the next 5 years are crucial for me and my plans to be involved in hockey. Specifically, I am committed to earning a NCAA Div 1 placement or a U Sport Scholarship to play at a Canadian university. Long term, I intend to transition into coaching or skill development and any other way I am able to give back to the hockey community.

Why are these your goals? Why are they important to you? What would it mean to achieve them? 

The simple and honest answer is that I have loved hockey since I started playing and that passion has only increased the further I advance. I want to continue to play hockey at the highest level possible for as long as possible while pursuing a post-secondary degree. I have always been devoted to becoming the best hockey player I can be and am committed to following my passion while finding ways to repay the time and effort others have poured into me over the years. I feel so fortunate to play at the level I have and want to demonstrate my gratitude by giving back to the hockey community.

What separates you as a player and person? What are some areas requiring work? How do you continue to get better? 

I believe I am the hardest worker, on and off the ice. It is my intention to apply relentless pressure and effort with every shift I have. I am extremely competitive and obsessive in correcting my weaknesses and developing my game. Even more importantly, my integrity and character are of utmost importance to me and I endeavor to treat everyone with kindness and respect. In terms of improvement, I am working on increasing my confidence, not overthinking my game, becoming more comfortable speaking publicly and in a leadership capacity, and working to become more assertive when necessary. There are many ways I am improving such as reading books, listening to podcasts, seeking feedback and studying the gameplay of others who have traits I admire and want to implement into my game.

What do you bring to any team you play for? What could a coach expect from you if they selected you for their roster? 

I bring consistent grit and hard work with offensive playmaking ability while being relied on in the defensive zone and on the penalty kill. I am also highly coachable and competitive in practice and games. They can expect a player who strives for excellence in all aspects of the game and in life.

What impact are you looking to have in your sports career? (Community, team, success, etc) 

I want to win championships and to leave every team I play for stronger and better. I also want to be known for being the hardest worker on every team I play for while growing and giving back to the game of hockey.

What do you believe separates the best players in the world? What attributes/intangibles define them? 

A consistent habit and dedication to growing their game each and every day with an extremely competitive nature. They are renowned for their work ethic, awareness of their deficiencies, confident in their abilities and constantly striving to improve.

Favorite thing about the game (on or off ice)? 

My favorite thing about the game is its competitive nature and the need for an entire team to buy-in to accomplish a win and become part of a brotherhood.
Accolades
2019-20 – AC Avalanche U16 AAA – Heart Award
2021-22 – Rutherford Scholarship, Didsbury High and Community Scholarships, AEHL Scholarship and Max Midget Scholarship – Grade 12
2021-22 – Airdrie CFR Bisons U18 AAA – Top Defensive Forward and Marcus Lavalee Award (Character)
2021-22 – Airdrie CFR Bisons U18 AAA – AEHL Top Defensive Forward
2022-23 – Drayton Valley Thunder – Most Dedicated Award
Media/Other Links