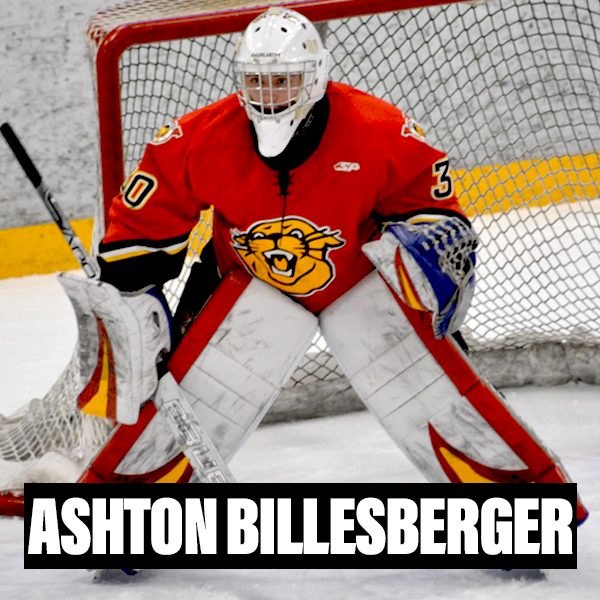 Player Profile
Character Article
Accolades
Media/Other Links
Player Profile
Date of Birth


October 8, 2003
---
Hometown


Lake Country, BC, CAN
---
Current Team


Victoria Cougars (VIJHL)
---
Position


Goalie
---
Height


5'11"
---
Weight


175 lbs
---
Glove Hand


Left
---
GPA


3.7
Character Article
What are some of your main goals within the game over the next 5 years? 

Over the next five years my main goals are to play hockey at the highest level possible, while getting an education at the college/univerlevel and leaving a postitive impact on the hockey commuinty and all my peers.

Why are these your goals? Why are they important to you? What would it mean to achieve them? 

Over the past ten years I have sacrficed tons to be able to get where I am today, basically my entire childhood was revolved around my hockey schedmissed many events and things average kids would find fun. That being said achieving my goals would make all of it worth it, proving all the coaches and scouts wrong that told me I was "undersized," my goals will help carve a path for other players that are critized on things that are beyond out of their control, which is something I've had to put up with my entire life.

What separates you as a player and person? What are some areas requiring work? How do you continue to get better? 

The biggest and most obvious trait that seperates me from the rest is my work ehtic, anyone who thinks they can even come close to have no idea what they're up against. I was the kid that was training on the weekends at 5am, driving across the city for my third skate of the day, giving up my summervacation to train for eight weeks, the kid that you'd see running laps in the parking lot after practice and games. I've always had a never fully satisfied mindset which has made me become extremely competitve to the point where it'll drive me absoulety crazy if I lose. An area that requires work for myself life away from the rink. The past 18 years hockey season never ended for me, once the season ended I immediatly began summer training, it's aloud me tbe in unreal shape, however, it takes a large part of your life away along with expirences you should be getting away from the sport aswell.

What do you bring to any team you play for? What could a coach expect from you if they selected you for their roster? 

Any coach that passed up on me simpliy doesn't care about winning, I bring a huge compete level to any team I play for, I will give them the absolute chance to win every single night. You can expect more than just a goalie when recruiting me, I will bring leadership and professional qualities to your organization along with a positive impact on the entire community surrounding.

What impact are you looking to have in your sports career? (Community, team, success, etc) 

Like stated before I want to leave this game knowing I did all I could to prove a point that vertically challenged goalies have what it takes to play at the highest levels, I want my impact to be big enough that the entire old generation view of taller goalies are the way ceases to exist, allowing everyone a fair chance.

What do you believe separates the best players in the world? What attributes/intangibles define them? 

I believe that the diffrence between a good hockey player and a great one is having the ability to put your teammates before yourself, no matter what pedigree you have. You need to constantly be hungry to win and be willing to put your body on the line if thatwhat it takes. There's tons of characteristics that make you a great hockey player, but the most important of all is you need to be a leader, and that can be in many ways and really depends on your personality on how you chose to present yourself.

Favorite thing about the game (on or off ice)? 

Hands down the greatest part of the game is the relationships you make, if you told me 13 years ago I'd having friends all across the world I'd probably laugh at you, that being said with the hockey commuinty becoming more and more diverse its allowing us to meet new people and even experince new cutlures, all while playing the sport we love.
Accolades
Grade 9, 11 and 12 – Honours
2018 WHL Bantam Draft – Swift Current Broncos – Drafted Round 11 Pick 241
Media/Other Links