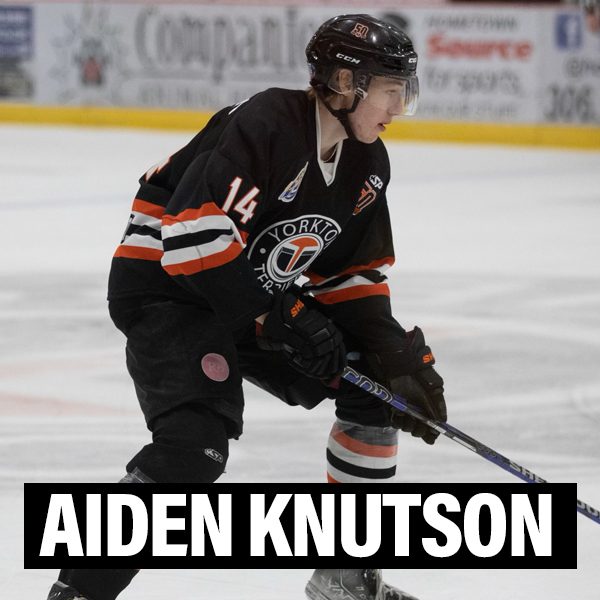 Player Profile
Character Article
Accolades
Media/Other Links
Player Profile
Date of Birth


January 7, 2004
---
Hometown


Red Deer, AB, CAN
---
Current Team


Yorkton Terriers (SJHL)
---
Position


Forward
---
Height


6'5"
---
Weight


190 lbs
---
Shoots


Left
---
GPA


4.0
Character Article
What are some of your main goals within the game over the next 5 years? 

Some of my main goals for the next 5 years in my Career are to become a valued and relied upon player in important situations, to become more mature and a more skilled hockey player to help contribute to my team and not only win games, but a championship. Another goal is to earn a spot and reach the highest level of hockey possible for myself whether it's division 1 hockey or CIS. Finally, to mature through the game of hockey while learning valuable life lessons from not only coaches, but from observing teammates and peers to give me the skills to approach and act on future situations in my life to the best of my abilities.

Why are these your goals? Why are they important to you? What would it mean to achieve them? 

These are my goals because since I was young, I have always wanted to reach the highest level I can and become a successful person in my own eyes. These goals are important to me because of my dedication and passion towards not only myself, but the game over my entire life and with these goals, I will learn to not back down from setting new goals down the road to better myself in the future.

What separates you as a player and person? What are some areas requiring work? How do you continue to get better? 

What separates me as a player and a person is my down to earth attitude on and off the ice and passion for my game. I find myself to be humble and not over exaggerate or over celebrate my accomplishments to put someone else down or make myself feel better or act like I am better then everyone else around me because everyone has a different journey in the game and life. My passion to get better constantly drives me to do hard things and sacrifice things in my personal everyday life so that I can give myself the chance to succeed. Some areas requiring work in my game and in life at times is to not beat myself up over a mistake or to not be too overly hard on myself because life and hockey are a game of mistakes. I continue to get better by growing mentally and maturing through my on ice and off ice game.

What do you bring to any team you play for? What could a coach expect from you if they selected you for their roster? 

What I bring to the team is a positive, team first, goal oriented hard work attitude that will continually drive to improve themself and there team to become the most successful they can. I also bring a 200 foot game by supporting my defence in the defensive zone and by starting the rush at times on the half wall or in the middle of the ice while finding ways to set up my teammates in the ozone and create chances offensively and provide a sense of secondary scoring when given the opportunity.

What impact are you looking to have in your sports career? (Community, team, success, etc) 

I'm looking to have an impact on my teammates in my Career by providing leadership and by building trust in them in my abilities.

What do you believe separates the best players in the world? What attributes/intangibles define them? 

I believe what separates the best players in the world is not only there talent, but there drive to get better and there commitment to training smart and to never be satisfied no matter how big the accomplishment.

Favorite thing about the game (on or off ice)? 

My favourite thing about the game is simply how fun it is. Also how it brings people together and shows who you are sometimes as a person and how it allows you to dedicate so much time and effort and reward you for your efforts.
Accolades
2019-22 – Honour Roll Every Semester
Media/Other Links