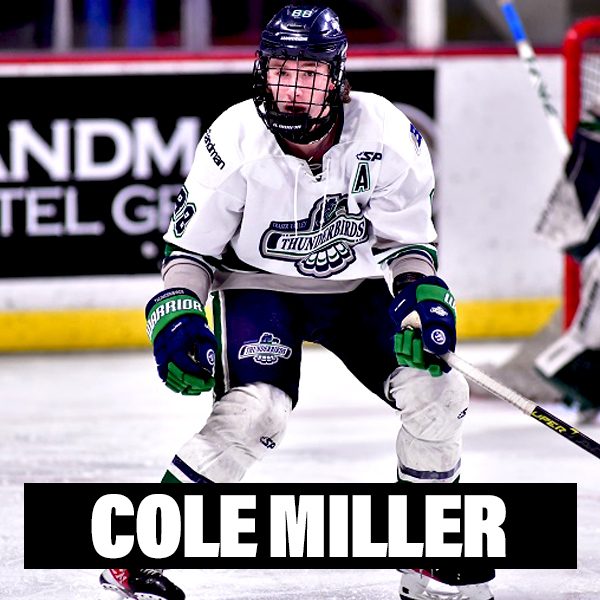 Player Profile
Character Article
Accolades
Media/Other Links
Player Profile
Date of Birth


June 21, 2006
---
Hometown


Chilliwack, BC, CAN
---
Current Team


Fraser Valley Thunderbirds U18AAA (BCEHL)
---
Position


Defenseman
---
Height


6'0"
---
Weight


170 lbs
---
Shoots


Right
---
GPA


4.0
Character Article
What are some of your main goals within the game over the next 5 years? 

Some of my main goals within the game over the next 5 years are:
a. Play U18AAA Fraser Valley Thunderbirds 2023 – 2024
b. Play Junior A (AP with a Junior A team)
c. Go to university (Usport or NCAA) and play hockey
d. Continue to grow my game and improve as a person every day.

Why are these your goals? Why are they important to you? What would it mean to achieve them? 

These are my goals because I love playing hockey and want to continue doing so while at the time get an education. I enjoy playing hockey with people who like the game as much as I do and I like the competitiveness of it. I want to continue getting better and challenging myself and believe my goals align with that. The reason these are important to me is because I love hockey, everything about it. I want to stay involved in the game as long as I can and am fortunate to play hockey. Achieving these goals would be awesome. It would mean so much to me to stay involved in elite level hockey and get an education.

What separates you as a player and person? What are some areas requiring work? How do you continue to get better? 

As a person I am easy going and fun to be around. I have a pretty casual attitude and like to hang out with my friends when I can. As a hockey player I understand that I need to be focused on the task in order to stay at an elite level. Sometimes that means I cannot be a nice person like I would be off the ice. Everything that happens on the ice needs to stay on the ice and within the rules. Some of the areas I know require improvement are my compete level. I understand that in order to continue to move up in hockey it gets harder so my focus and compete level also needs to improve. My fundamental skills need to improve aswell, and they will always need to. I will continue to improve my game by focusing on my fundamental skills, to continue to understand the level of compete for the level of hockey that I play, and above all to continue to want to get better.

What do you bring to any team you play for? What could a coach expect from you if they selected you for their roster? 

. Every team I play for I bring a good attitude and excellent work ethic. I'm a strong team player that listens to coaches and wants to get better every day. If a coach selects me he should know that I will always bring a good attitude and strong work ethic. They should know that I will always work to implement their plans and work as hard as I can and at the same time love what I do. I'm strong defensively and can be counted on in all aspects of the game.

What impact are you looking to have in your sports career? (Community, team, success, etc) 

I want to be successful in everything I do. I want to be remembered as a great team player who competed all the time.

What do you believe separates the best players in the world? What attributes/intangibles define them? 

I believe what separates the best players from rest is their desire to compete and their work ethic. I think the best players are so determined to be the best they are constantly working on their game and are willing to do anything to stay at the level. They are very determined people.

Favorite thing about the game (on or off ice)? 

My favorite thing about the game is being around my team mates and working towards a common goal. I love being around like minded people who want to be the best and always improve. Hockey is the best sport and the people who are involved in it are too!
Accolades
2022-23 – Fraser Valley Thunderbirds U17AAA – 1st place Bauer Elite Invitational Tournament
 2022-23 – Fraser Valley Thunderbirds U17AAA – Named Assistant Captain
Media/Other Links